We did it again! ViSoft was first choice and "Product of the Year 2013" in the reader's election organized by the leading German special interest tiles-magazine Fliesen + Platten.
It is part of being on a continuous high: after a second and third place in 2011 ViSoft finished already 2012 in first place with the fantastic Photo Tuning panoramic views. ViSoft scores easily at the election's key criteria "product innovation": 2013 the fantastic App ViSoft 360 and the Sharing-Portal came in first – a perfect solution for presenting panoramic plannings public and on spot.
"Thanks to all ViSoft customer, having elected ViSoft as THE innovative product", ViSoft CEO Rainer Nissler says, "this is a great confirmation ViSoft launched the right products on the 3D-Planning-Software market."
Congratulations on ViSoft-Sales-Partner and Software Company Lins Software Systeme, who came in second in the software category with the new highend presentation-box CollCam.
ViSoft wants to compliment Ardex, Karl Dahm Werkzeuge and Schlüter Systems on their sucessful participation in the reader's election as well.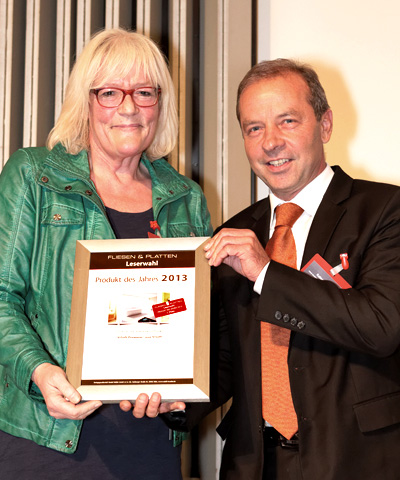 Winner certificate under hand and seal: Rosmarie Rittmann, ViSoft Corporate Communication, shows the "Product of the Year 2013 Award" during the Event Fliesen + Platten Forum in Cologne, Germany